It looks like any other classroom of a government school with its dull and gloomy lime-yellow walls and desks in bright colours. The students, uncharacteristically quiet, stare intently, not at the blackboard, but on the screen of a smart television fitted in specially-designed wooden cupboard.
Soon, the screen flickers to life and a slide flashes. "Speaking test on international platform," reads the header of the slide, which also shares the details that the test is three parts in which the students will answer questions about themselves; speak on a given topic; and hold have a longer discussion with the examiner.

As students gear up with pen and paper, in one part of the screen appears a lecturer and starts "English Speaking" class for the day.
Seated on the benches at Government Senior Secondary School, Mullanpur Garibdass — a rural pocket in Punjab's Mohali district — are Class 11 students, attending their weekly class under the 'IELTS module', to better their English language skills in all four categories– listening, reading, writing and speaking, one class at a time.
Not to be mistaken with the International English Language Testing System, the module, however is seems to be modeled after the English proficiency test, which is a pre-requisite for entry into 140+ countries.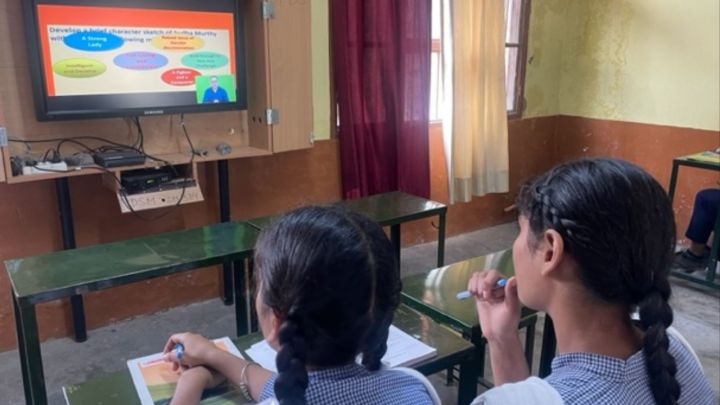 Students work on their listening. (Express photo by Divya Goyal)
The Interactive English Language Training for Students is a teaching module especially prepared by Punjab education department teachers to ensure that students who wish to fly abroad do not end up spending thousands of rupees on private coaching to appear in the IELTS, conducted by the Australia-based IDP Education Pty Limited and co-owned by the British Council and Cambridge Assessment.

The module, a mandatory part of English course for class 11 and 12, trains students in LRWS on the pattern similar to IELTS, at school-level itself.
Amid political din over brain drain and successive governments failing to stop it, and multiple appeals of Chief Minister Bhagwant Mann urging youths to stay back instead of seeking greener pastures abroad, the fact remains that nearly every second person appearing for the IELTS is from Punjab. The numbers are high also because some take it multiple times after failing to secure the requisite band. Several people running IELTS coaching institutes opine that those appearing for the test often fail to score big in the listening and speaking components.
The one good thing that new teaching module has done is make practical components of "listening and speaking" a part of the students' regular English course, which till few years back was limited to reading and writing.
Teachers say that since the module is mandatory for Classes 11 and 12, and a part of the evaluation system, students not wishing to fly abroad were also being benefitted, as basic English speaking skills will help them anyway. Students coming from rural backgrounds, making even a small effort in speaking English, is a major achievement, they say.
Akshpreet Singh, a student attending the class, plans to move to Canada for higher studies. "I might have to go for coaching classes to prepare for IELTS, but these classes in the school are very helpful. They are making me familiar with the test pattern," says the youngster, whose father is a farmer.
Akshpreet makes an effort to speak the entire sentence in English.
A migrant from Uttar Pradesh, Tanya, who aspires to move to Germany for medical studies, is attentive as the lecturer on the screen explains what points have to be included while introducing self and mistakes to be avoided. "Private coaching for IELTS costs at least Rs 10,000 a month. I cannot afford it right. So these classes are helpful. Maybe I will go for private coaching later," she says.
Slides from the online lecture. (Express photo by Divya Goyal)
At Ludhian's Ayali Khurd village-based Government Senior Secondary school, a "Listening" class is on. The students put on headphones, as the teacher announces that she would soon play an audio clip, and they would have to write the answers after listening to it. "Earlier, our English syllabus was only limited to reading and writing, but with listening and speaking included, it is giving practical exposure to students, especially from rural areas who need a lot of practice," says the teacher, requesting anonymity.
It was in 2019-20, during the previous Congress government, that the proposal to start IELTS training in government schools was given a go-ahead by then Education Secretary Krishan Kumar, who wanted that children coming from underprivileged families, especially in rural areas, should not spend lakhs on coaching at private institutes. Each IELTS test costs over Rs 16,000 per attempt.
The proposal had met with political backlash with Opposition parties accusing the government of accelerating migration of youths from state instead of stopping them. Post the backlash, the project was renamed as "Communication Skills". "But it failed to attract students. We eventually had to name it IELTS again, but with our own full form. We also had to explain in Vidhan Sabha session that education department hasn't created its own testing tool but a training module to help underprivileged students," says an official.
Cut to 2023, from EDUSAT lectures to PM e-Vidya YouTube channel, listening labs in schools to Punjab Educare mobile app, the IELTS module is being taught on all platforms by state education department.
Varinder Kaur Sekhon, state resource person and course head for English, says that it was an uphill task for English teachers to create the module. "For Listening part, our teachers recorded and created a bank of audio scripts for practise and uploaded them on EduCare phone app, YouTube channel and other online media. The lectures for all four categories were recorded for EDUSAT and they are also being telecast on NCERT channel PM e-Vidya. Several schools are now equipped with 'listening labs' which have Bluetooth speakers and headphone. Workbooks are provided having exercises on all four components," says Sekhon.
"It not only about preparing students for IELTS to go abroad but also about enhancing their skills in the language. Now 15 marks are dedicated to Listening and Speaking in final exams. There has been an uptick in number of students participating in declamation, poetry and other speaking contests. We teach what we test, so we had to make it a part of evaluation system so that teachers and students both take it seriously," adds Shekhon.
"Our biggest achievement is to see rural students having spoken English a part of their curriculum which wasn't the case earlier. Ours in the only module which is offering training in "While Listening" (answering questions while hearing the audio) which even private schools do not," she adds.
Khushbir Kaur, an English lecturer at Mullanpur Garibdass, however, admits that the IELTS module classes were not enough to stop private centres from looting students. "These classes are very basic. The syllabus isn't good enough for appearing in IELTS but yes, it is making students familiar with what they would face. Recently, an ex-student of mine landed in Canada. He sent a message that he had taken his first IELTS practise test in the school."