I enrolled in a German language course after graduating from St Andrews College, University of Mumbai. It was a part time course but got me so interested in the language and the country that I decided to study in Germany.
During the time I was pursuing that course, I completed my Master's in Arts with English Literature from Mumbai University. I even worked as a copy editor at an organisation in Mumbai for nearly 1.5 years. I did a teaching programme called CELTA. I worked as an IELTS instructor and was already looking at the education landscape in Germany as we used to design courses for students.
Acceptance and admission procedure at TU Darmstadt
By that time, I reached the B1.1 level in German. I came across this course, MA in Data and Discourse Studies at TU Darmstadt and decided to try my luck as the applications were going to close soon. I got my acceptance in September 2021.
To apply for the course, I submitted my marksheets of my BA and MA, transcripts and statement of purpose (SoP). I applied directly to the university therefore, I did not need a long SoP — it was mainly about my background, the course I wish to join and how it would help me.

However, I had to write a long SoP for my visa interview where I had to write a detailed essay about myself, my interests, ambitions and aspirations. Since I knew the medium of instruction I did not need IELTS score. The medium of instruction for my course is English and we can choose electives in German.
Flexible curriculum
I study Data and Discourse Study. The electives in this course give us multiple options. Like we can switch from the Humanities background to coding or data analysis, explore the field of digital humanities where we work closely with GLAM (Galleries Libraries Archives and Museums) collections and information systems, and research or discuss how we can make accessible infrastructure that fosters research, among other things. Or we can combine our humanities background and German language proficiency with some data analysis skills that help us get into professions like marketing or corporate communications where we use data for strategic planning and communication. This is what I've been doing as a working student for about 1.7 years now.
I have gained a good level of industry experience in the communication and marketing part, and I've also actively taken courses about GLAM collections and infrastructure. I am curious about the possibility of doing a PhD in Digital Humanities and staying in the academia after my course or at a later time.
India vs Germany's education system, work culture
The main difference that I noticed between the Indian and German education system is the teaching. Like in India, we would get notes, question banks and other things. Teachers would come in and teach the subject and then move ahead with that but here, we are asked to read the chapters beforehand and the time in the classes is used for discussion. The classes here are more lively and engaging.
Also, when it comes to teachers, they are more approachable, open to the possibility of students being smarter than them and very friendly and supportive. In India, I feel there is a certain distance between students and teachers.
Here in Germany, I also pursued a job while studying. There are three categories — working students, interns and mini jobs. As I fall in the first category, I am expected to work for 20 hours per week. Here, we work in big companies. I support teams in strategic planning, marketing and communication-related activities with my data and language skills.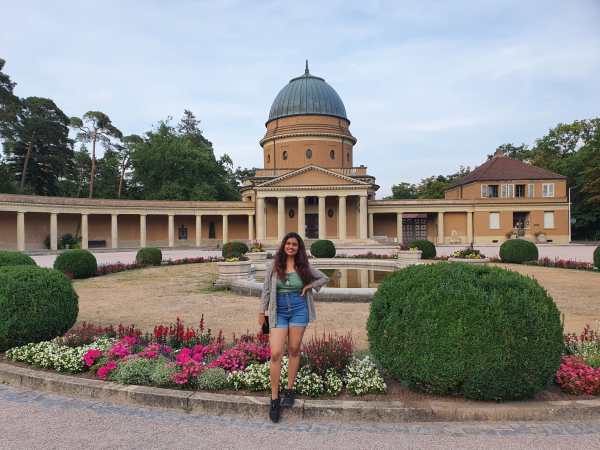 Nikita likes the work-life balance in Germany.
The work culture is so good that they would always involve you in discussions, not just ask for your opinion but actually value it. The benefits are also nice like the company paid for half of my health insurance. Over here, there is less income disparity compared to India. After working here, I have planned on staying here even after my Master's.
Friends, family and homesickness
Unlike many, I don't feel homesick. I speak to my family at least one hour every day. Also, I have made good friends who are always there to cheer me up. Since, I live here in a flat, my first friends were my flatmates — one was from France and the other from Vietnam. After some time, my flatmates changed and the next person was from Turkey.
I also made friends at a mentorship programme known as the Big Sister, I would start as a mentor next year. I am also a part of the TEDxTUDarmstadt and all team members get along really well. So, I have a set of friends there as well.
Over here, I generally prepare one pot meals as they are easy and quick. I cook Indian cuisine when my friends come over. I live in a 3-BHK apartment where we have separate rooms but have common areas such as the kitchen. My current flatmates are Turkish and Australian. Sometimes, I cook and eat with them.
For students who are willing to study abroad I would say, research well and make connections. Especially for a job, it is difficult to find a job after your education is complete, try and start looking for a job beforehand. Reach out to people and try and build a network.
(This letter is part of a series by The Indian Express where we bring to you the experiences of students at different foreign universities. From scholarships and loans to food and cultural experiences — students tell us how life is different in those countries and things they are learning other than academics)