Immigration, Refugees and Citizenship Canada (IRCC) recently announced that Indian students applying through the Student Direct Stream (SDS) category for a Canadian study permit will not be required to achieve a minimum score of 6.0 bands in IELTS in all individual sections of the test from August. While experts welcomed this move, Indian students in Canada expressed concerns about a possible decline in the quality of students.
Moreover, Indian students in other parts of the world and experts have also agreed that English proficiency tests such as IELTS, TOEFL, PTE, DuoLingo etc are important but are questioning the limited validity period.
Increase in number of English test takers
The number of test takers has also seen an upward tick in several of these tests. In 2021, there was a 53 per cent growth in Indian test takers of TOEFL (Test of English as a Foreign Language) compared to the previous year. In 2022, the TOEFL test takers further increased to 59 per cent. Corresponding with this, in 2021, Indian test takers accounted for 7.5 per cent of the total test takers globally. In 2022, the percentage increased to 12.3 per cent among all global test takers of TOEFL.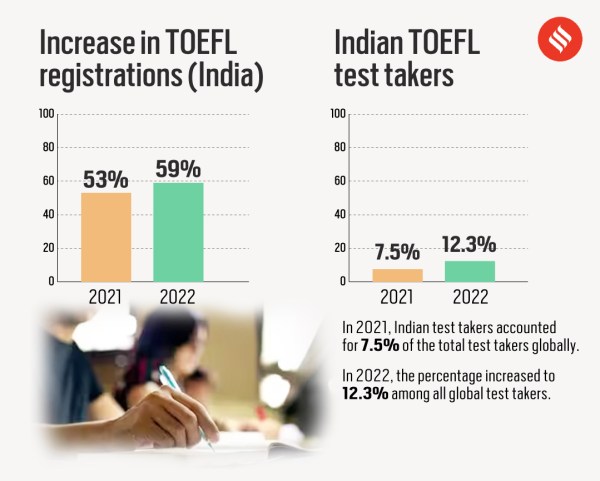 (Graphics by Abhishek Mitra)
Similarly, Pearson administered about 8.27 lakh PTE (Pearson Test of English) worldwide in 2022, showcasing a 90 per cent surge compared to the previous pandemic-impacted year of 2021. In India, it was found that 55 per cent of the test takers were men, while the remaining 45 per cent were women candidates. The data, accessed by indianexpress.com, further reveals that 39 per cent of Indian female test takers aspired to pursue educational goals, while 43 per cent of Indian women chose to undertake the test as a means of advancing their professional aspirations or migration plans.
While some students and experts believe that English proficiency tests are still relevant, what the majority agree on is that the validity period of these tests should either be cancelled or extended by at least a few years.

Why repeat?
As per the rules, IELTS, TOEFL and PTE scores are valid only for two years, and the scores are automatically taken off the candidates' accounts once the validity limit of 24 months is completed.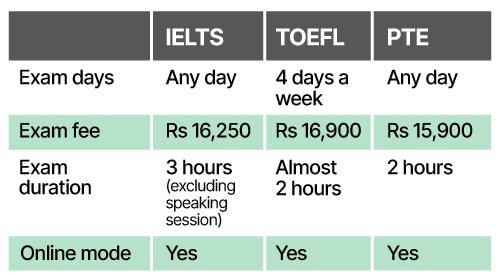 (Graphic by Abhishek Mitra)
Many students like Karan Ramesh Metha, who is pursuing a BSc (Chemistry) from the University of Calgary, think that "there's no point in repeating these English proficiency tests if the students have already cleared it once."
Others too believe this is a futile exercise as nobody would forget a language within two years. "If a student can't communicate in English then studying abroad will not work out for them, but if they do end up getting a good band score in IELTS/ TOEFL, it simply means that they're capable of communicating in English and hence won't require to take it up every few years," Simran added to Karan's point.
Even experts agree with this point and feel that the validity of these English proficiency tests should be extended to at least a few more years. "These tests determine how a student will be able to communicate in their daily academic and professional life and are surely important. Having said that, I don't think students who are heading to an English-speaking country would forget the language, and that too within two years. If the host institutes wish to keep the validity, then the validity period needs to be extended by at least a few more years," said Suneet Singh Kochar, CEO and founder of Fateh Education.
Is Indian schooling not enough?
At a time when English language is a compulsory subject in most Indian schools, some study abroad aspirants are starting to question the relevance of English proficiency tests, while others continue to believe that it is important because it ensures that students can communicate properly when they go to an English-speaking country.
"If an Indian student has studied English and more importantly, if English has been their first language in school then taking a separate test to determine their ability to speak this language becomes pointless. Majority of the students have the required English speaking/ reading/ writing skills," Simran Helal, who is pursuing MA Advertising and Marketing from the University of Leeds, UK told indianexpress.com.
Akshay Chaturvedi, founder and CEO of Leverage Edu also agrees that Indian students have better English capabilities than most of the world where it isn't the first language, but quickly adds that the main point is the level of proficiency.
Experts believe that proficiency tests are important to ensure that the English language that students learn at the school level translates well into their academic performance as well as social interactions.
"Most Indian students have knowledge of the English language due to its inclusion in the K12 academic curriculum. However, having such English language skills may not always correspond to the level of proficiency necessary for international higher education. This is where tests such as TOEFL are useful, as they measure students' academic English skills which are necessary for success in international academic environments. Students with demonstrated proficiency in the English language are more likely to be accepted by international institutions," said Sachin Jain, Country Manager, ETS India & South Asia.
Other experts, too, believe that even though some students have the necessary speaking, writing, and reading skills for basic communication and understanding, the proficiency levels needed for "academic or professional contexts often require higher language skills. Therefore, assessments like TOEFL and IELTS may be needed to ensure students meet the necessary language standards for international education," said Abhijit Zaveri, founder and director of the ed tech company Career Mosaic.
Some students have also raised questions over the last few years as to why can these English proficiency tests not be substituted with personal video interviews by each university. "Right now, there is a one-time fee that a student has to pay, and I agree that it is not a small amount, but if each university is told to conduct its own exam, then they will charge accordingly. This will probably lead to more expenses and a hectic schedule for study abroad aspirants. That is why a standardised test is necessary," explains Kochar.